DC Rebirth Holiday Special Is A Massively Fun, Festive Romp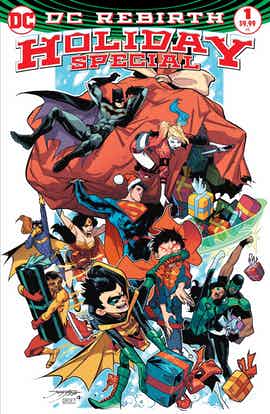 Every holiday season brings its share of holiday specials from the major comics publishers, but with DC Comics well into its successful "Rebirth" initiative, the publisher delivers a festively compiled volume that's special indeed with the massive 96-page "DC Rebirth Holiday Special" #1. With no less than ten holiday-themed stories wrapped inside a Harley Quinn framing sequence written by her creator Paul Dini, a wide array of writers and artists contribute towards this collection of tales that range from decent to downright wonderful. This highly enjoyable and eclectic compilation has something for most everyone, regardless of who their favorite characters are, or which holidays they observe.
RELATED: The One Bat-Family Member No One Expected To See Again Is Back
The time of year when good cheer fills the air is about the only time that one could accept the notion of Harley throwing a Christmas party where Superman ends up playing carols on piano while The Flash and his rogues gallery join in. Dini and Elsa Charretier's "A Very Harley Holiday" not only makes it all too believable, but all too much fun, just as any such sequence should be. Christmas stories often require a little more willing suspension of disbelief than usual, but the Christmastime cheer evoked by Dini's story makes it a little easier, and the creators behind the other story readily follow Dini's lead.
Case in point: Tim Seeley and Ian Churchill's leadoff "The Last Minute," featuring Batman, Superman and their respective sons all playing a role in some last-minute shopping on Christmas Eve. The heartwarming outcome isn't at all what readers might expect, and Seeley takes the opportunity to explore the fresh new dynamic between The World's Finest dads and sons. Likewise, Eric Esquivel and Dan Jurgens' short but sweet "For the Dog Who Has Everything" features Krypto receiving a special gift; one seen countless times over the course of decades, and rarely if ever discussed, or even noticed, but finding a new and permanent place in DC's "Rebirth" continuity.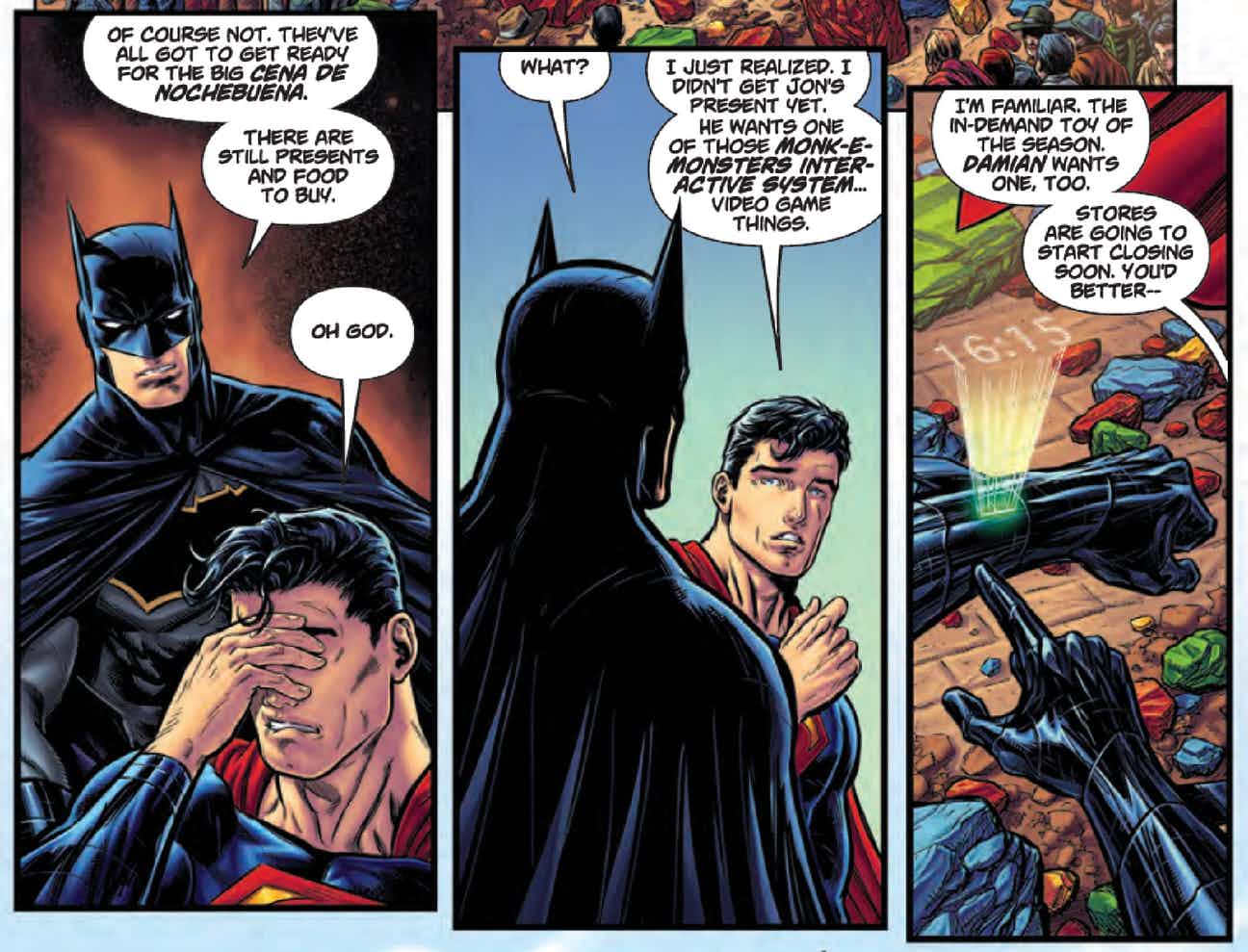 The Dark Knight detective returns for an unlikely team-up with a fellow investigator; namely, Detective Chimp in Heath Corson and Gustavo Duarte's delightful "The Night We Saved Christmas," where the two super-sleuths help a familiar looking jolly old man in seeking out his missing red-nosed "show dog." An equally unlikely alliance between Wonder Woman and John Constantine is the hook of "Dreaming of a White Christmas" by Mariko Tamaki and Matías Bergara, where Constantine seeks relief from nightmares plaguing him from a conclave of witches on the eve of the Winter Solstice. Of course, one man's nightmares are the dreams of another, and Constantine's terrible dreams give the title of this untraditionally festive story its relevance.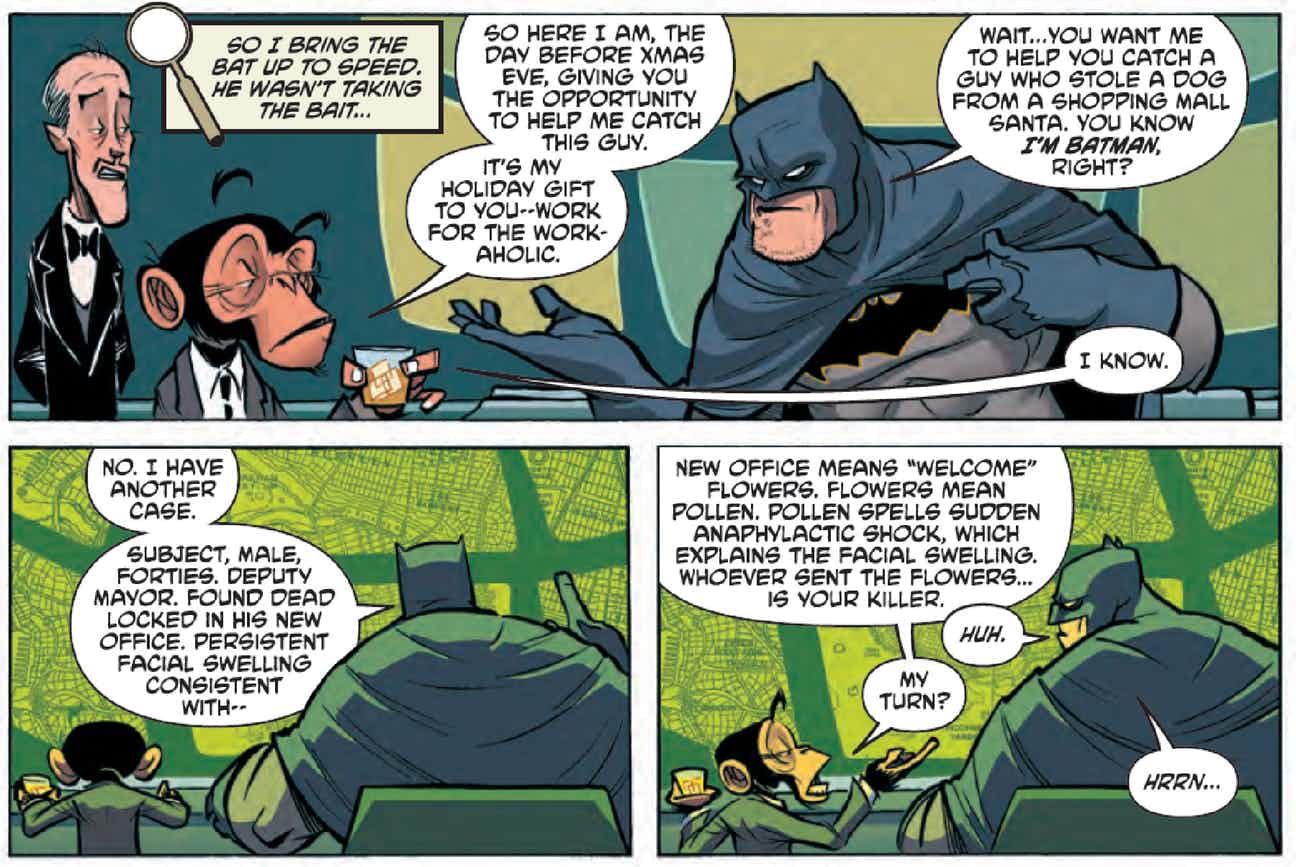 "A Flash Christmas Carol" by James Tynion IV and Robbi Rodriguez is a far warmer and more traditional yuletide tale, where the man in the red suit this time is The Flash, not Santa Claus, and he ensures that several children — one in particular — have the kind of Christmas every child deserves. Even Captain Cold thaws out somewhat on Christmas Eve. The appropriately brief "Day of Returning" by Gene Luen Yang and Andrea Mutti is a simple one-pager featuring New Super-Man doing a good deed for a cynical supervillain bent on destroying the commercialism that has consumed China's observation of the Winter Solstice.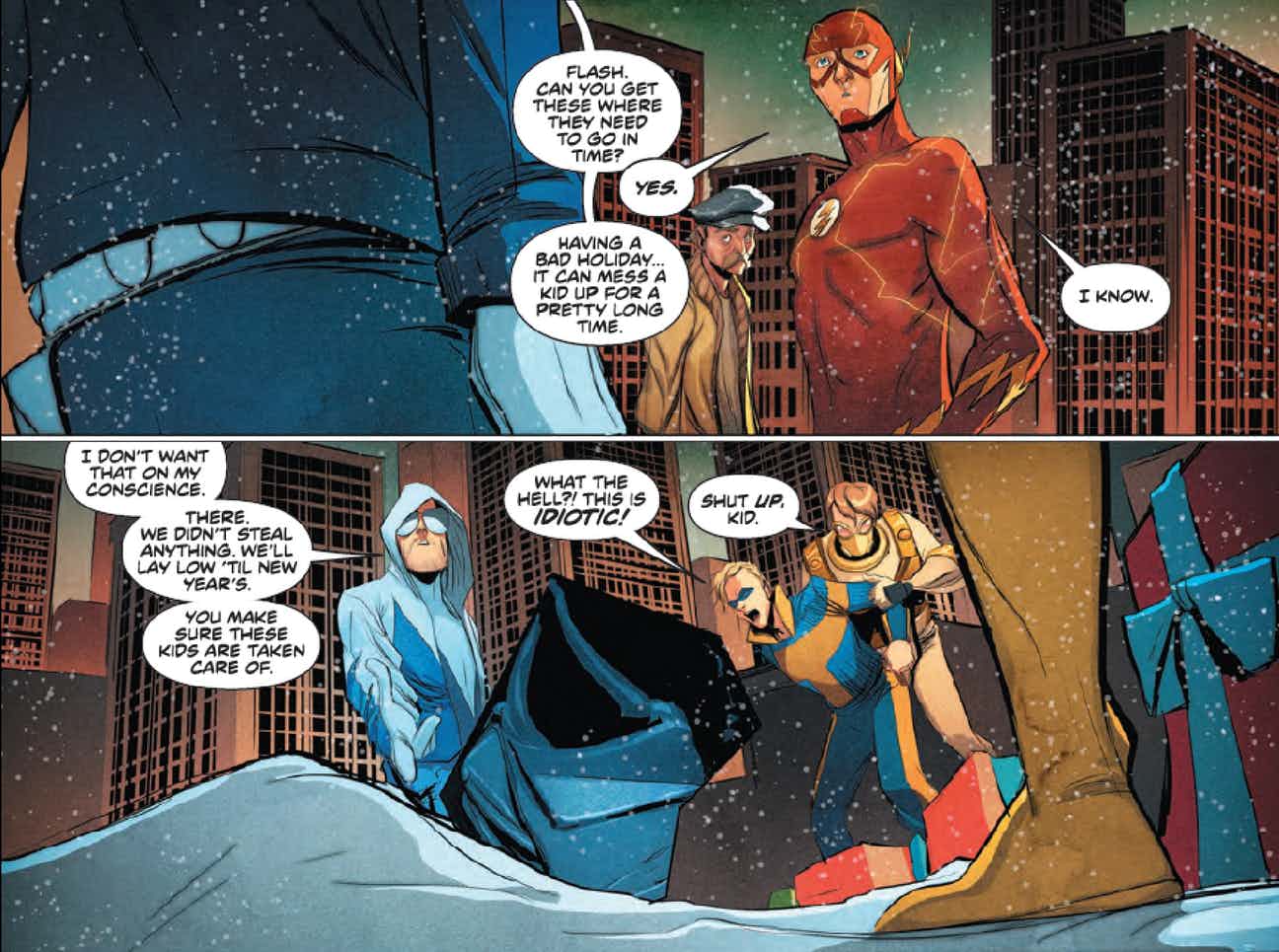 Batwoman stars in K. Perkins and Paolo Pantalena's strained "Light in the Dark," where Kate Kane reunites with an old friend to help protect a corporate whistleblower. The Hanukkah setting gives Perkins' story a somewhat festive feel, but the forced parallels are a bit trite and Kate's obsession with pie is way overstated. James Asmus and Reilly Brown put the issue back on track with "What a Year for a New Year" featuring the Titans stopping the bad guys on New Year's Eve, but at the expense of a special moment for Roy Harper.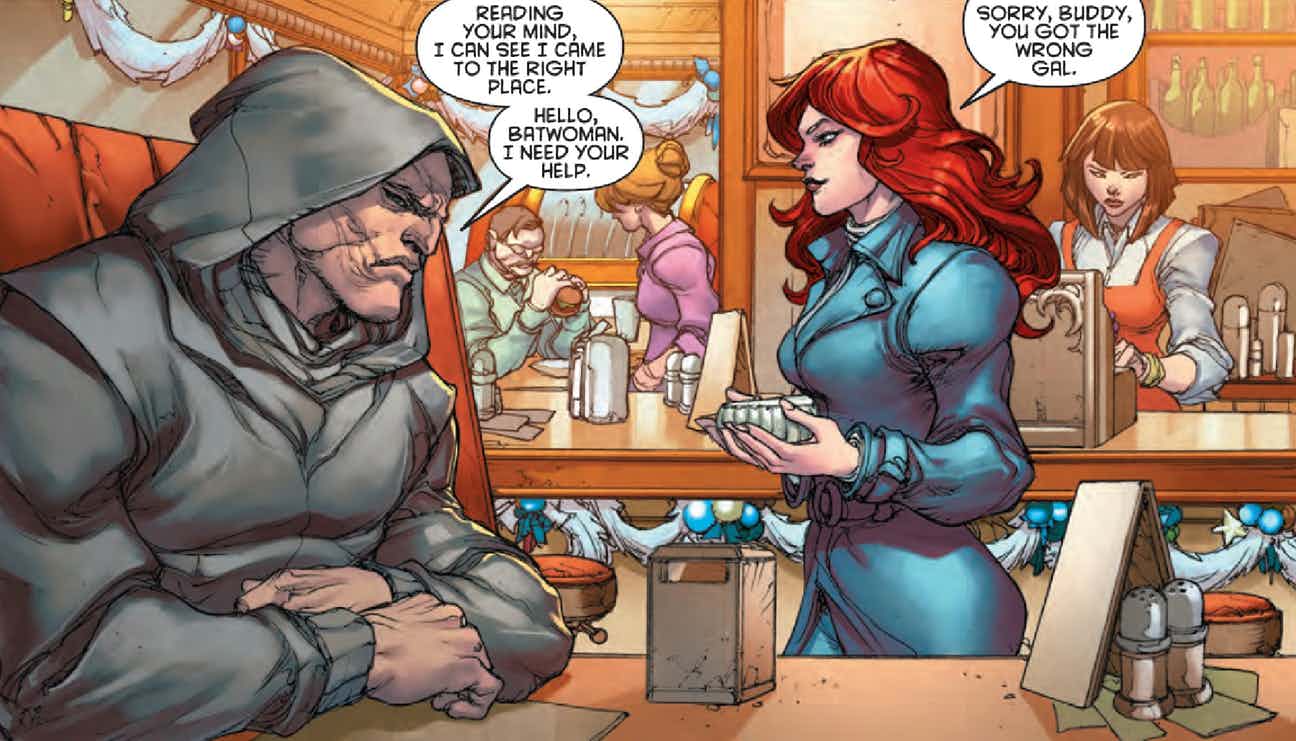 Bill Freiberger and Thomas Pitilli loosely connect to Asmus and Brown's story in "I Don't Wanna Be Late," where Nightwing immediately departs from the aftermath of the battle in Times Square to hook up with Batgirl. Which he does, uneventfully, leaving a puzzling aftertaste in the wake of this one-page tale. The issue's final entry moves into the New Year with Jessica Cruz and Simon Baz' observation of Three Kings Day, in Steve Orlando and Vita Ayala's competent "The Epiphany," where Jessica and Simon encounter three very alien wise men in the desert, in the comic's closest entry to a non-secular Christmas story.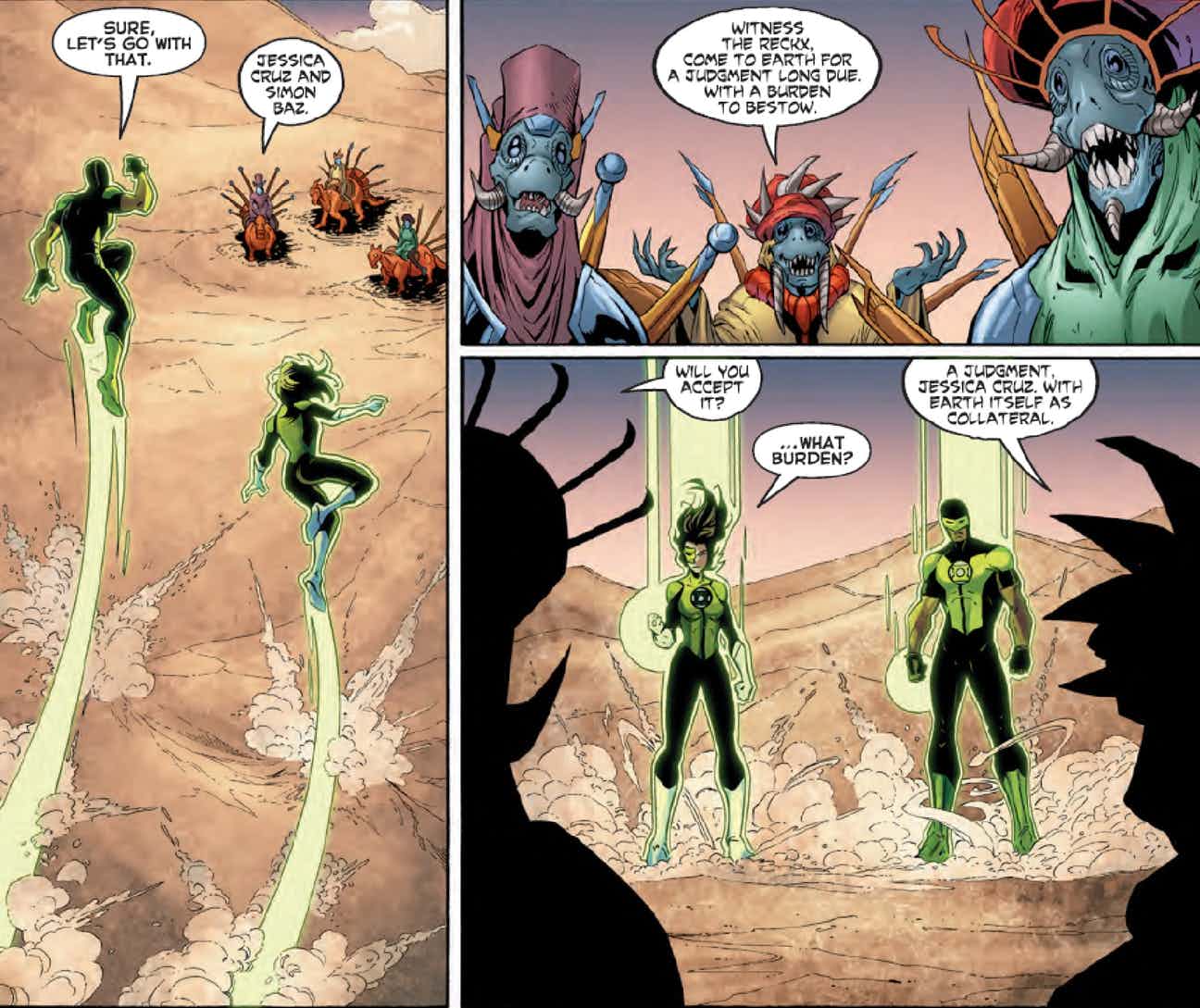 Dini's epilog wishes readers a happy holiday of their choice, before briefly jumping even further into the year in an amusing final panel. Collectively, "DC Rebirth Holiday Special" #1 stands up as a fun, festive, and highly enjoyable holiday romp, and one of the more superior Yule time efforts in recent years.