News The Disastrous Life of Saiki K Anime's Season 2 Confirms Returning Cast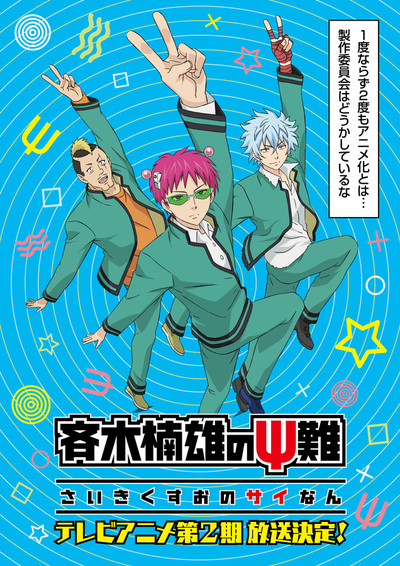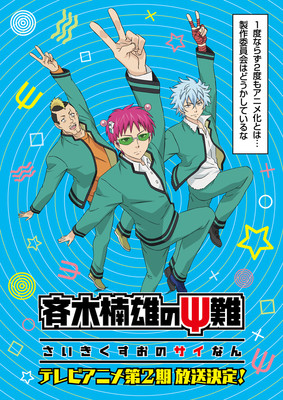 The November issue of Shueisha's Saikyō Jump magazine revealed the returning cast members for the upcoming upcoming second season of the television anime of Shūichi Asō's The Disastrous Life of Saiki K. manga on Friday.
The returning cast includes:
Hiroshi Kamiya as Kusuo Saiki Nobunaga Shimazaki as Shun Kaidō Daisuke Ono as Riki Nendō Natsuki Hanae as Reita Toritsuka Satoshi Hino as Kineshi Hairo Yukari Tamura as Chiyo Yumehara Ai Kayano as Kokomi Teruhashi Maaya Uchida as Chisato Mera Yoshimasa Hosoya as Aren Kuboyasu Tomoaki Maeno as Makoto Teruhashi/Tōru Mugami Showtaro Morikubo as Uryoku Chōno Mitsuo Iwata as Kuniharu Saiki Rikako Aikawa as Kurumi Saiki Kouichi Yamadera as Kumagorō Saiki Rie Tanaka as Kumi Saiki Kenji Nojima as Kūsuke Saiki Masaya Matsukaze as Saiko Metori
The new season will premiere in early 2018.
The manga centers on a high school boy named Kusuo Saiki. He possesses supernatural powers that cause unfortunate events in his everyday life.
The first season premiered as a "double broadcast," airing in the mornings Mondays-Fridays within the Oha-Suta ("Good Morning Star") program on TV Tokyo, and at night on TV Tokyo, TV Aichi, and TV Osaka. The morning broadcast aired five episodes each week, and the late-night broadcast collected those five episodes and aired them together. The anime premiered in July 2016. Funimation streamed the series with English subtitles as it aired in Japan, and also streamed an English broadcast dub for the series.
The manga is also inspiring a live-action film that opens in Japan on October 21.