1st episode with English subtitles available now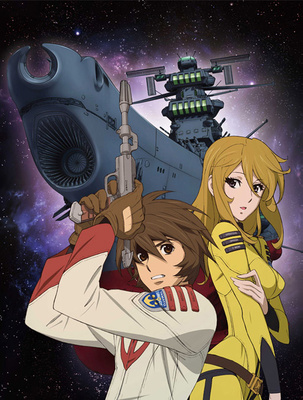 Crunchyroll began streaming the first episode of the Space Battleship Yamato 2199 anime series on Wednesday with Japanese audio and English subtitles under the title Star Blazers: Space Battleship Yamato 2199. The company hasn't yet announced in which territories the anime is available, or when it will add more episodes of the series. The first episode will be available for free users on November 15.
Funimation began streaming the series with an English dub on Wednesday.
With Star Blazers: Space Battleship Yamato 2199, director Yutaka Izubuchi (RahXephon) remade the classic 1974 space opera anime Space Battleship Yamato. The series first premiered in Japan as a series of seven movies shown theatrically in Japan from 2012 to 2013, each containing four episodes' worth of runtime (except for the first movie, which only shows the first and second episodes). The anime began airing on Japanese television in April 2013. Voyager Entertainment released the series on English-subtitled DVD and Blu-ray Discs.
A compilation film of the series opened in Japan opened in October 2014 with the title Uchū Senkan Yamato 2199: Tsuioku no Kōkai (Space Battleship Yamato 2199: Voyage of Remembrance), and a new film that continues the story opened in Japan in December 2014 with the title Uchū Senkan Yamato 2199: Hoshi-Meguru Hakobune (Space Battleship Yamato 2199: Star-Voyaging Ark). A new seven-part theatrical anime sequel project titled Uchū Senkan Yamato 2202: Ai no Senshi-tachi began with the first part in February, and the fourth part will debut in Japan on January 27.
The original Space Battleship Yamato anime was adapted for American television in 1979 as Star Blazers.