Specialized troops armed with state-of-the-art weapons, Mithril is an organization tasked with stopping terrorism and keeping the peace on earth. However, their success hinges on the Whispered, individuals that possess remarkable knowledge of machinery and devices. Enter Sousuke Sagara who is tasked with protecting Whispered candidate Kaname Chidori. In order to do so, he joins her in high school, but while he has a talent on the battlefield, it seems that doesn't transfer as well to the classroom. However, the enemies of Mithril are just beginning to make their move.
While often overshadowed by other series, Full Metal Panic tells a cohesive and, at times, very comical story that spans multiple genres to display something wholly unique. Love action, comedy, and romance? Then maybe these anime recommendations can help.
For Fans of Mecha Romance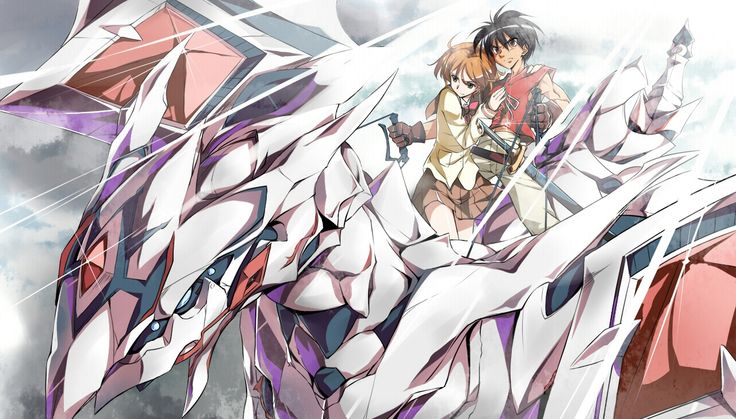 Escaflowne
During a twist of fate, Hitomi Kanzaki witnesses a boy named Van fall from the sky and kill a dragon. After he defeats it, they are both sucked into a pillar of light and Hitomi is taken to Van's world where she finds out he is a prince and his kingdom is at war. After his kingdom falls, they both end up on the run as they try to take his kingdom back and get Hitomi home.
While Full Metal Panic is more of a traditional mecha series, both it and Escaflowne manage to bridge the gap between what is often more of a shounen genre by mixing in some shoujo elements and romance. However, Escaflowne also has a bit of a fantasy element to it, but they are both very much a story about a boy and girl pair trying to save the world even though the characters themselves don't always realize it.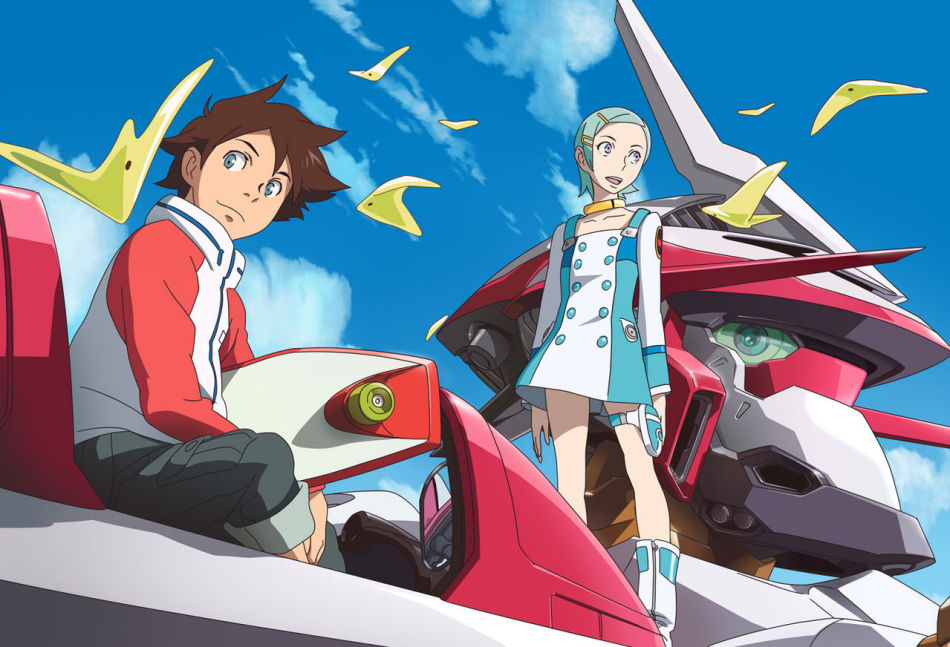 Eureka Seven
Renton Thurston hates his boring life in the backwater town of Bellforest. He wants nothing more than to have an adventure, but his grandfather insists he become a mechanic. However, one day adventure literally falls through his roof in the form of Eureka, the pilot of a Nirvash type Zero and member of mercenary group Gekkostate.
If you liked Full Metal Panic for its mix of action, romance, and comedy as well as its superb character development, then Eureka Seven is definitely something to follow it up with. Both series are not only about teenagers ultimately fighting to save the world, but their plots also feature some massive conspiracies.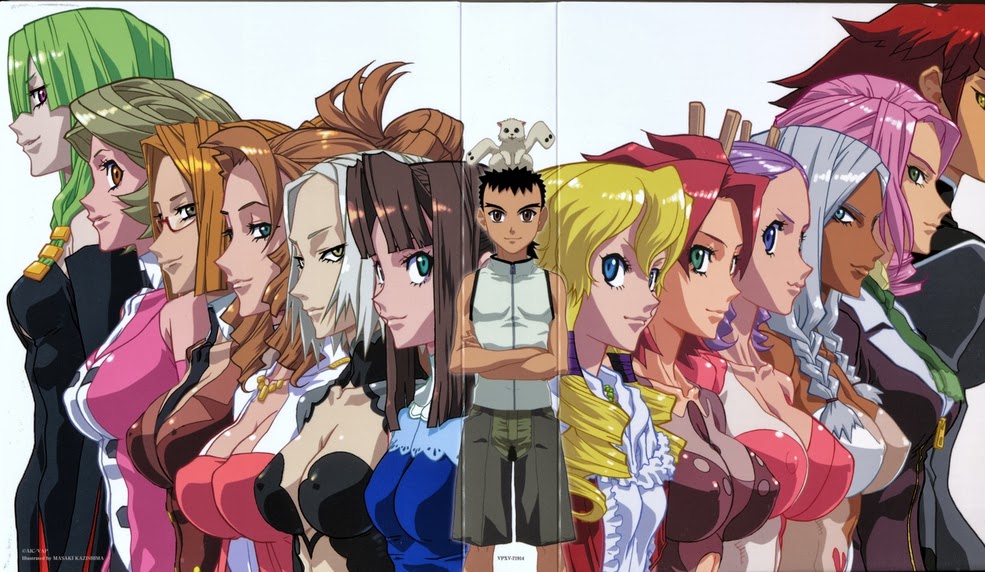 Tenchi Muyo! War on Geminar
After being mysteriously transported from Earth, Kenshi Masaki finds himself enlisted by a mysterious organization on a planet called Geminar. With the promise of being returned home, he is tasked with piloting a mech and fighting the Shtrayu Empire. After things go wrong and he ends up in prison, he must now redeem himself in order to get home.
Although War on Geminar puts more of an emphasis on harem than it does fully realized romance, both shows do feature those amorous feelings. However, what they really have in common is the intoxicating mix of being super serious and fighting one moment to being completely irreverent with its comedy in the next.
For Fans of Dense Male Protagonists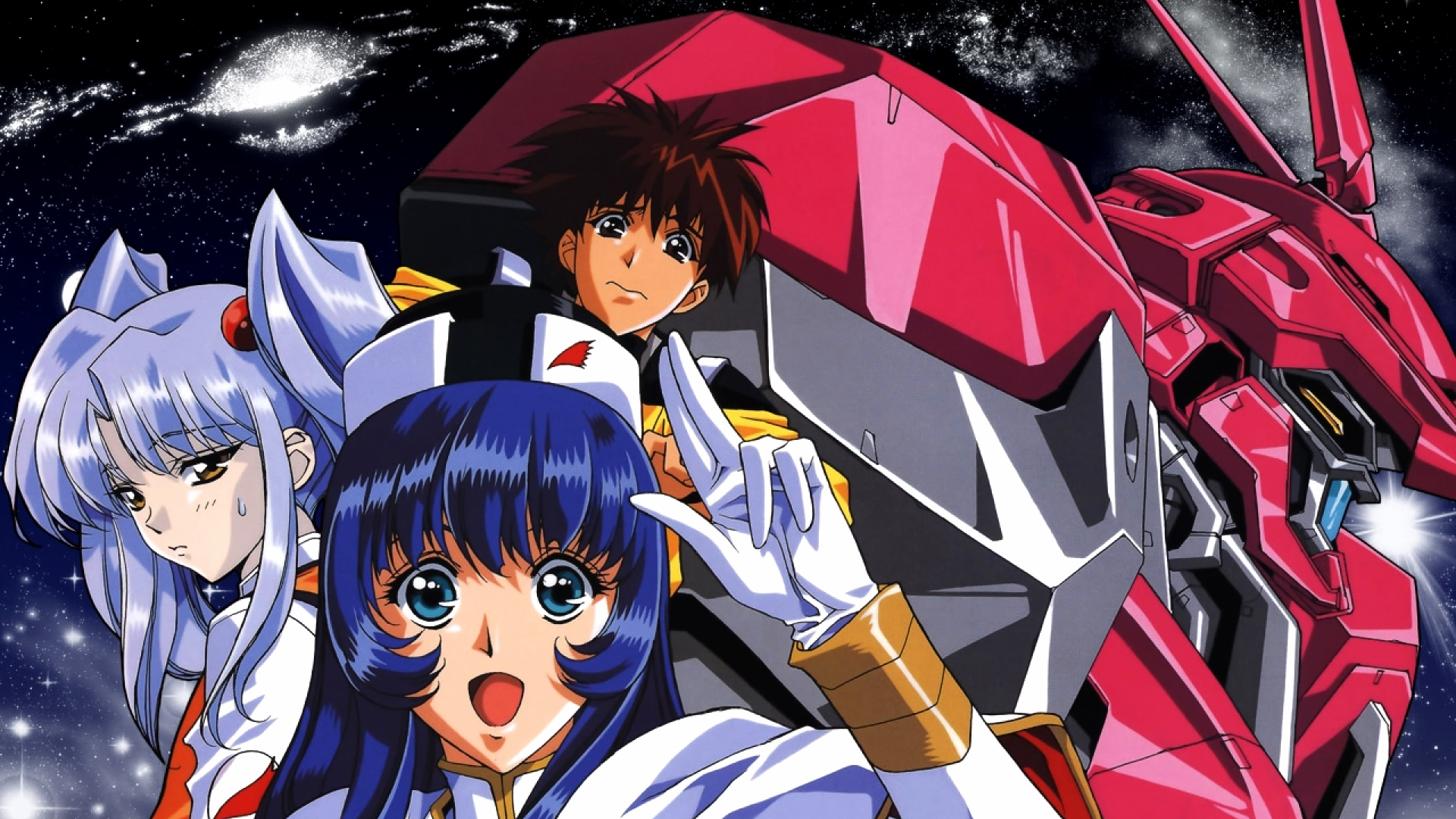 Martian Successor Nadesico
Despite growing up on a healthy diet of mecha anime and living on Mars, Akito doesn't want to fight. He wants to cook. However, when Jovian Lizards come to attack his colony, he finds himself mysteriously transported back to Earth. There he meets Yurika, the captain of the space battleship Nadesico. She takes him on as a cook and backup pilot. While the ship is filled with seemly misfits and weirdoes, they are all hand-picked, highly qualified experts, Akito included.
In its essence, Nadesico and Full Metal Panic have very similar stories. They differ in some key elements, such as the school setting, but for the most part it follows a group of individuals that try to save the world. While Akito is a little more seemingly inept, like Sousuke, he is similarly awkward when it comes to socialization. If you enjoyed how comical everyone was in Full Metal Panic, but still good at what they do, then you'll love this.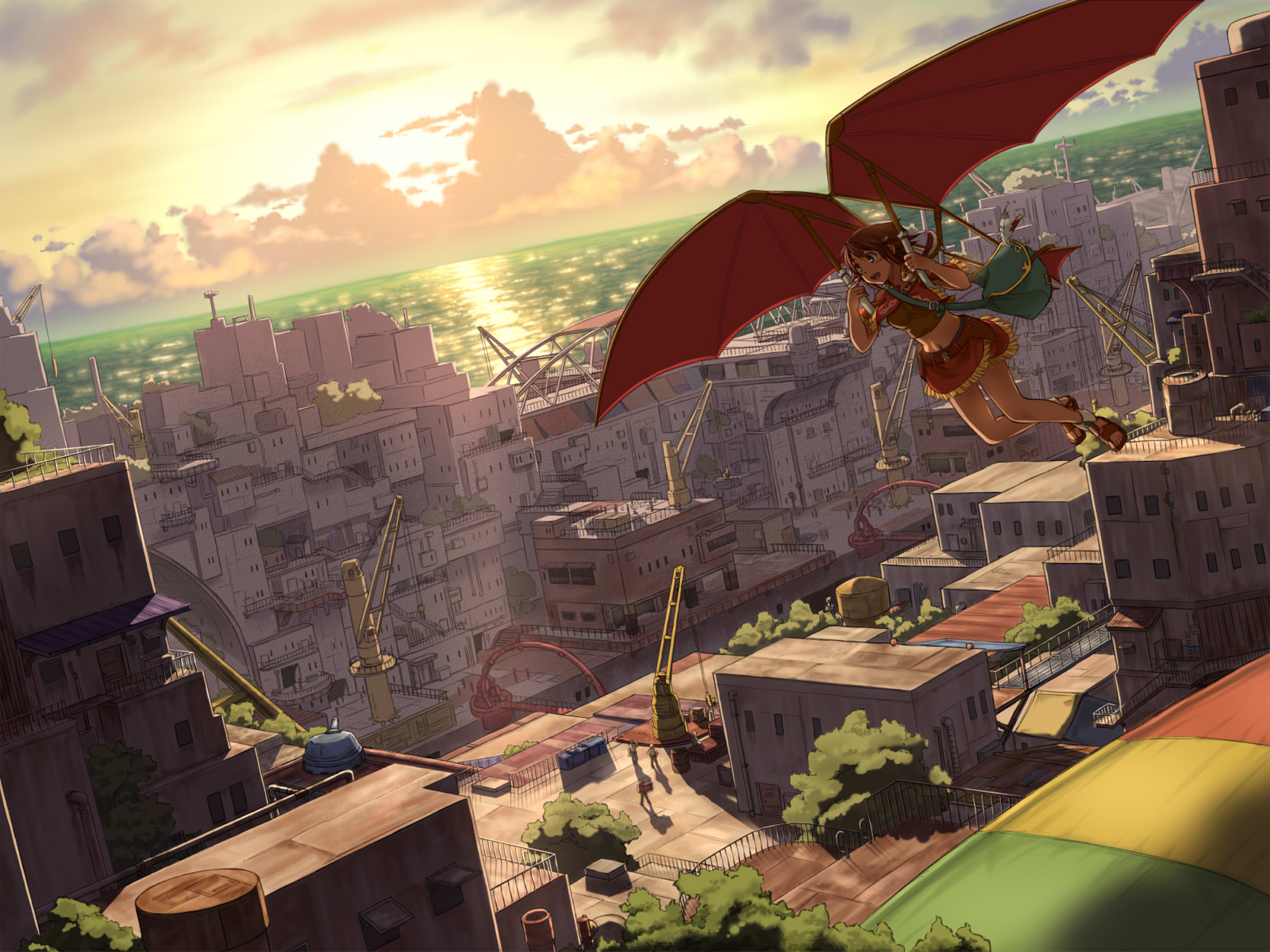 Gargantia on the Verdurous Planet
In the distant future, humanity has abandoned a ruined Earth and now lives in the furthest reaches of space fighting their eternal enemy, the Hideauze. During one of their massive space battles, a young soldier named Ledo and his mecha Chamber are flung through a warp hole into space. He crash lands on a strange planet that is covered in completely in water. To his surprise, he finds that other humans also live there aboard massive fleets of boats. Found by the Gargantia fleet, Ledo must navigate this strange new world.
Both series follow male main characters that is only really at home on the battlefield. However, they are thrust into other situations that require them to have social skills, which they are lacking. However, through the help of the female mains, they learn more about their world and it fosters an interesting character development.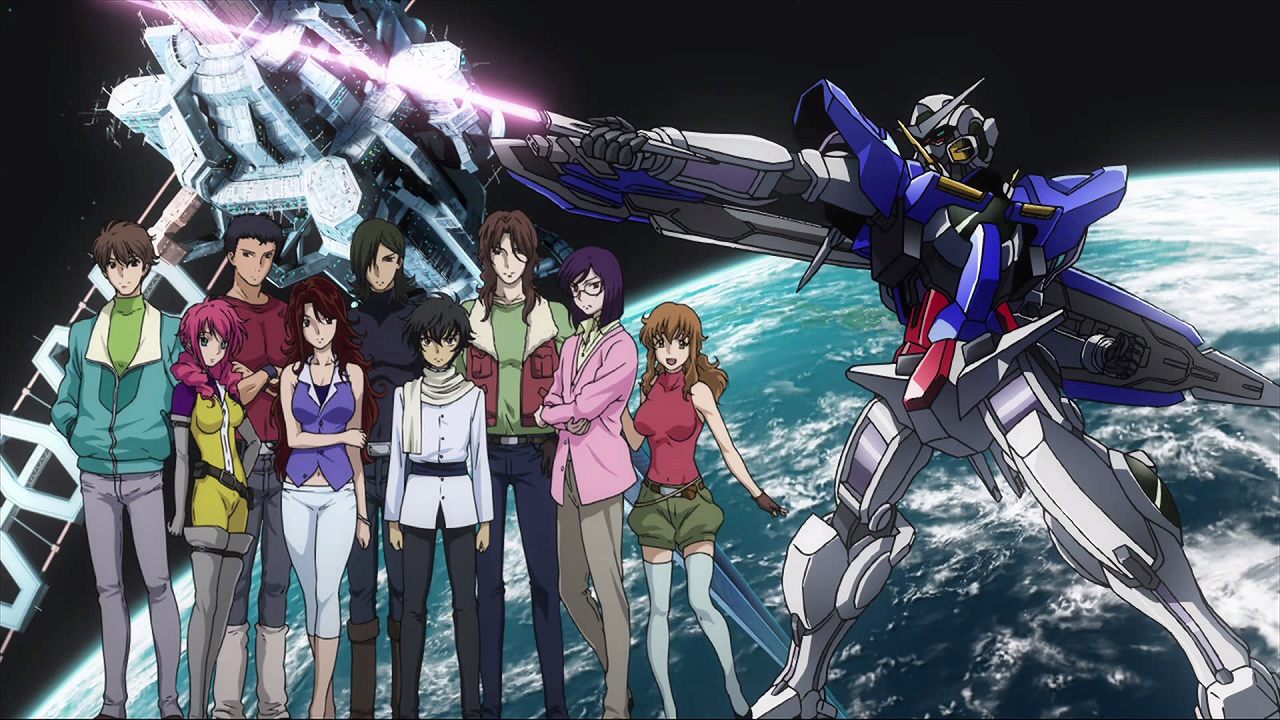 Mobile Suit Gundam 00
After the world depleted its stores of fossil fuels, it led to an energy crisis like no other. After the world switched to solar power, the countries that once depended on the sale of fossil fuels plunged into poverty, and thus warfare. From this strife rose a military group called the Celestial Beings, who aspired to end all war through intervention with their powerful Gundam mobile suits. This is their story.
Of course all Gundams have a certain amount of relatablity to Full Metal Panic, but none more so than Gundam 00. Essentially the Celestial Beings are a lot like Mithril in the effort that they work to keep the peace in the world, but for both groups, it is not always as simple as it should be.
For Fans of Comical Action Series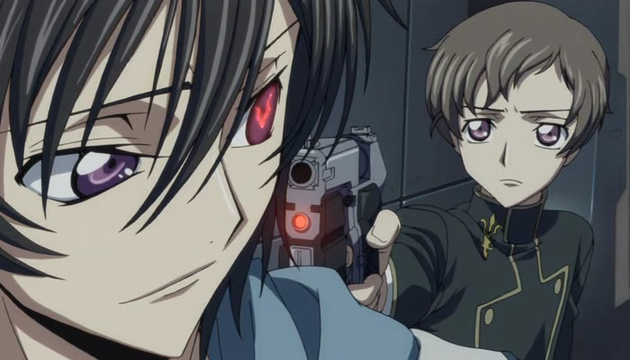 Code Geass
The Holy Empire of Britannia has established itself as the dominant military nation, starting after their conquest of Japan, now named Area 11. Under Britannia's tyranny, a number of resistance groups rose up to fight for their freedom. Enter Lelouch Lamerouge, the exiled prince of Britannia who has been sent to live in Japan. One day, after finding himself caught in the crossfire in a battle between Britannia and insurgents, Lelouch is able to escape with his life after meeting C.C., a mysterious girl who grants him the power of absolute obedience.
I feel like the reason people loved Code Geass so much was not only because it was an intricate political drama, but it still found ways to weave in both action and comedy so that no one moment was boring. Full Metal Panic is also excels at this. However, it doesn't have the same amount of seriousness and drama to it that Code Geass does, but it has enough different elements to make every moment an interesting one.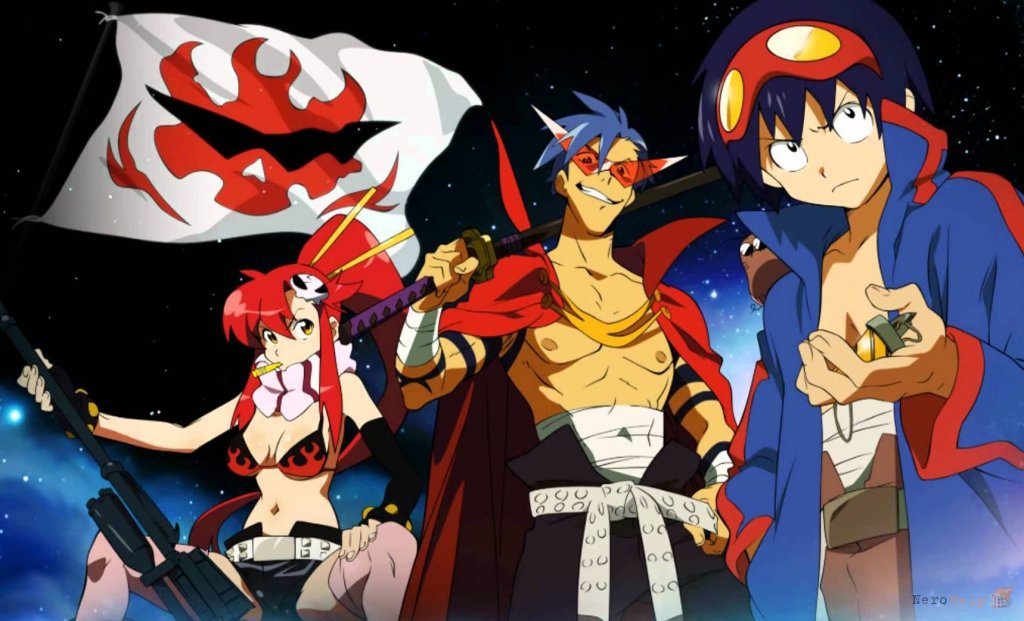 Toppa Tengen Gurren Lagann
Simon and Kamina were living boring lives in their deep underground village when, on an excavation dig, they find a mysterious object that turns out to be the ignition key to an ancient war machine. With their new weapon, the pair are able to fend off an attack from above, but upon catching a glimpse of the sky, they set off on an adventure that will take them out of this universe.
As Gurren Lagann is a partially a parody series, comedy is to be expected. However, in between action and comedy, it always takes those moments to the biggest extremes. Full Metal Panic is more of a balanced show and not so much of a parody. However, it has similar humor and enough action to keep things interesting.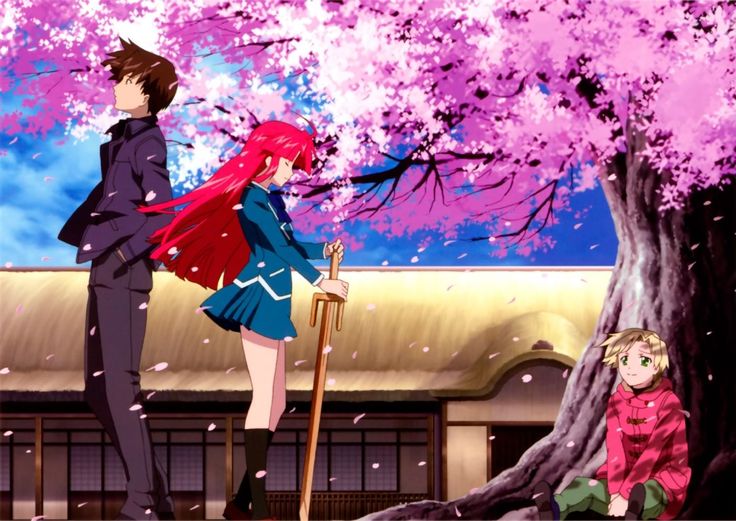 Kaze no Stigma
Kazuma Yagami is a Fuujitsu user able to control the wind. However, this ability led to banishment from his family home for not being able to control fire. Years later when he returns home, it leads to conflict, but worse yet, several members of his family have been killed by Fuujustsu. Now he must discover the true identity of the killer.
While Kaze no Stigma is definitely separate because it is not mecha so much as it is magic, it still has a lot of the same elements. You have a guy and a girl pair fighting, and while there is no organization behind them, they fight to protect their world. Of course, like Full Metal Panic, there is fighting one moment and comedy the next to keep things from staying too serious.
Got any more anime recommendations like Full Metal Panic? Let us know in the comments section below.