Alternative(s):
노블레스 (Korean); નોંબ્લેસ; नोब्लेस (Hindi); النبلاء (Arabic); Adelskap (Swedish); Дворянство (Russian); Nemesség (hungarian); Szlachectwo (Polish); Nobleţe (Romanian); Nobleza (español); האצילות (Hebrew); Kilmingieji (Lithuanian); Благородство (Bulgarian); Nobreza (Portuguese); Noblesse (French); Adel (German); maharlika(filipino); 貴人 (Japanese); Asiller (Turkish); Adel (Norwegian); نجیب زاده (Perian); ; উচ্চ মর্যাদার দায়িত্ব (Bengali); Племенитост(Serbian); Golongan Bangsawan (Malay)
#Noblesse😵😡😡😠😠😡😡😡😡😠😡😠😡😠😡😠😡😠😡😠😵😵😨😨😨😱😱se an demlrado mucho ya p cortenla y actualocen
#Noblesse-Rai-s-AdventureOlha o estado do capítulo 10... =/ tá tudo bugado =/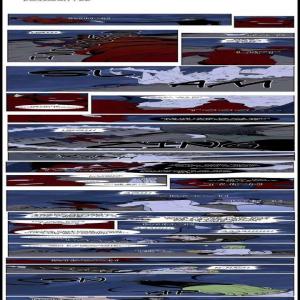 Mañana toca empezar a leer Noblesse para poder hacer una review el fin de semana.
Ahí voy, descargando capítulos...
Buenas noches (para mí), mañana más.
#Manhwa
#Anime Club en español
Creo que ya he leído suficiente de Noblesse como pasar a la siguiente serie.
Me ha gustado, aunque no tiene el toque de shonen que esperaba que tuviera (por lo menos hasta por donde voy, cap 108). Aún así es un manhwa entretenido de leer.
Seguiremos con la siguiente recomendación, Great Outcast sugerido por
@galii
Por qué deberías haber leído ya Noblesse (y no ser un inculto como yo que no sabía lo que era)
Voy por el capítulo 25 y la trama está aún descubriéndose, los personajes van presentándose poco a poco, no hay ninguna sensación de prisa lo cuál lo hace muy disfrutable.
El argumento es un tópico que se ha usado bastantes veces (el mundo de los vampiros) pero no te sobrecargan con peleas, guerras o muchos datos sobre fechas nada más empezar, lo cuál se agradece.
Y por Dios, los toques de humor son tan repentinos que te hacen mearte de risa cuando aparecen. La atmósfera es tan seria y de repente, ZAS. Me encanta.
Gracias a
@Yamete, Onii-chan!!
por la recomendación.
Mi recomendación: 10/10
DEBEN leer esta serie.
You have any problems or suggestions, feel free to contact us.
Emoji
😀
😁
😂
😄
😆
😉
😊
😋
😎
😍
😘
🙂
😐
😏
😣
😯
😪
😫
😌
😜
😒
😔
😖
😤
😭
😱
😳
😵
😠
🤔
🤐
😴
😔
🤑
🤗
👻
💩
🙈
🙉
🙊
💪
👈
👉
👆
👇
🖐
👌
👏
🙏
🤝
👂
👃
👀
👅
👄
💋
💘
💖
💗
💔
❤
💤
💢
Clubs
Load prev page
Load next page
Friends
Load prev page
Load next page
Picture
Youtube
Video
Submit
Picture
Youtube
Video
Submit
*The format of url is not valid, check and try again please
Emoji
😀
😁
😂
😄
😆
😉
😊
😋
😎
😍
😘
🙂
😐
😏
😣
😯
😪
😫
😌
😜
😒
😔
😖
😤
😭
😱
😳
😵
😠
🤔
🤐
😴
😔
🤑
🤗
👻
💩
🙈
🙉
🙊
💪
👈
👉
👆
👇
🖐
👌
👏
🙏
🤝
👂
👃
👀
👅
👄
💋
💘
💖
💗
💔
❤
💤
💢
Clubs
Load prev page
Load next page
Friends
Load prev page
Load next page
Picture
Youtube
Video
Submit
Emoji
😀
😁
😂
😄
😆
😉
😊
😋
😎
😍
😘
🙂
😐
😏
😣
😯
😪
😫
😌
😜
😒
😔
😖
😤
😭
😱
😳
😵
😠
🤔
🤐
😴
😔
🤑
🤗
👻
💩
🙈
🙉
🙊
💪
👈
👉
👆
👇
🖐
👌
👏
🙏
🤝
👂
👃
👀
👅
👄
💋
💘
💖
💗
💔
❤
💤
💢